ISO 14001:2015
Part of the tightening up of Waysis' CSR policy is certification in accordance with ISO 14001:2015. The control of the environmental aspects and effects had already been partly established within Waysis in the quality management and safety assurance, but it required further and more detailed implementation. An inventory was already made for this in 2011, with the direct result of an environmental manual. Once housed in our new building at the H.J.E. Wenckebachweg in Amsterdam, the subject has been picked up again.
ISO 9001:2015
The quality of business processes (and following: the products and services) can only be maintained within an robust organization. For this purpose, Waysis composed its first Quality Handbook, based on the years of experience (Taxameter Centrale BV was established in 1927) and the processes used at the time. In the following years this handbook was further developed into a structure compatible with ISO 9001:2000.
Waysis's certified quality assurance is currently monitored by 'random' internal audits and the annual audit by  BSI, the accredited independent organization that carries out the external audits. During the last audit, Waysis again received a positive assessment, this time in accordance with ISO 9001:2015.
VCA** certification (Safety and Security Certification)
The safety of employees, but also of citizens on the street during work, the health aspects (ARBO) that are directly related to this and environmental matters that must be closely monitored, are an important part of business operations. Waysis is therefore VCA** certified as an organization (VCA* for companies that do not participate in a project as main contractor).
ISAE 3402 annual reports
Waysis takes care of various processes, such as the processing of parking transactions and receipt details of parking violations. We have ISAE 3402 type II certification, the international standard for (control of) outsourcing. With this we meet the contractual obligations that are required to take over the (financial) services for various municipalities, for example in the field of parking meters. nemen, bijvoorbeeld op het gebied van parkeerautomaten.
Various IT systems are hosted in a professional data center, which complies with NEN/ISO 27001:2005 and NEN/ISO 27002:2007 with regard to physical and electronic security against external threats.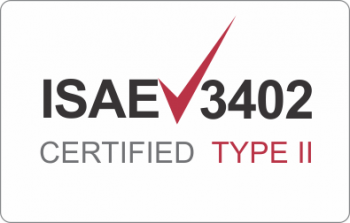 Contact
Waysis B.V.
H.J.E. Wenckebachweg 80
1114 AD Amsterdam-Duivendrecht
Tel. 020 - 462 0 462
E-mail: info@waysis.com

Yellowbrick International (70% eigendom van Parkeon en 30% van Waysis) voltooit de overname van Brick ...
Lees meer...

→